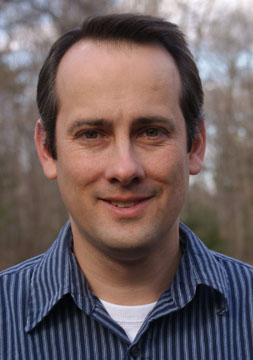 Norm Feuti is a syndicated cartoonist, author, and freelance artist living in Massachusetts.
Norm's first syndicated comic strip, Retail, presents a humorous look at the retail industry by chronicling the daily events at the fictitious Grumbel's department store. Drawing from his 15 years of experience working in retail management, the humor of Retail plays out through the day-to-day trials and triumphs of four main Grumbel's department store employees (Marla, Cooper, Val, and Stuart) and the customers they encounter. Retail is distributed worldwide by King Features and appears in about 70 newspapers throughout the US and Canada. If your local paper doesn't carry Retail, you can read it online every day at www.retailcomic.com.
Norm's second syndicated comic strip GIL is a realistic and funny look at life through the eyes of a young boy growing up under circumstances that are familiar to millions of American families.  GIL is syndicated by King Features, and launched in newspapers nationwide on January 2, 2012. If your local paper doesn't carry GIL, you can read it online every day at gilcomics.com.
Norm's first book, Pretending You Care: The Retail Employee Handbook, is a parody guidebook for retail employees that includes over 200 Retail comic strips. Pretending You Care is published by Hyperion. It can be purchased on Amazon.com and at fine booksellers everywhere.
Norm can be contacted by email at normfeuti@comcast.net